Me & CML – 1994-2014 by Chris
I have a history of Chronic Osteomyelitis, caused by a collision on my push bike with a car and in 1991 was diagnosed with Spinal Stenosis, which is a family hereditary condition. I had also fallen through a house roof and damaged my knees again and whilst serving in Northern Ireland I had been hit by an exploding projectile.
February 1994, I'd been out of the Army 5 months and had just started working as a tyre mould engineer. I was 22 and spent a lot of time socialising, I was also experiencing a bit of Lethargy and was throwing up for no apparent reason. I have also always been fairly well built and thick set but I was now starting to lose weight without dieting. A friend of mine at the time was studying to be a nurse and thought these things that were happening to me were strange and out of character and advised me to see my doctor. I made an appointment and after explaining these symptoms his initial thoughts were diabetes. Blood was taken and sent away to the lab for examination and within a couple of days I received a call from a local hospital asking me to come in a see a Haematology consultant. I went to see him that day where he sat me down and set up a small tape recorder so that I could play back the chat in case I missed anything. This seemed a bit strange to me as I'd never had a consultation recorded before. He told me it was because what he was about to tell me was very important and would be quite a lot for me to digest. After a lot of technical stuff about the blood tests he informed me that I had Chronic Myeloid Leukaemia.
"Yeah, and what's that?"
He proceeded to inform me that it was a type of cancer. This is the best bit, I simply replied "so what you going to do?".
Not sure he was ready for that response, my explanation for this, what the hell do I know about CML or cancer, other than it has been known to kill people, but hasn't a lot of things plus I served my country which holds a certain amount of risk.
Now, over the years I've been hit by a car and had my knees badly damaged and also developed Chronic Osteomyelitis and been diagnosed with Spinal Stenosis so this would explain my acceptance of my new diagnosis. I went through the usual bone marrow biopsy and was initially put on Interferon, where I had to inject myself every evening.
The search for a marrow donor also began. After a couple of months on the Interferon I began to have excruciating pain in both of my shoulders rendering my arms useless. My parents called for the doctor to come to our home and visit me, which happened every night for the rest of week, the only thing they diagnosed was 'frozen shoulder'.
One doctor, however, did administer morphine to help relieve the pain long enough to get some sleep. I had now been referred to the Royal Victoria Infirmary at Newcastle and placed under the care of a newly appointed consultant Dr Lennard, it transpires I was her first patient as a consultant. I was attending the hospital one day to have a biopsy done and I had one of my arms in a sling. She asked me why I had a sling and I explained about the pains in my shoulders and just as the anaesthetic was taking hold and making me drowsy she explained it was a form of chronic arthritis caused by the interferon. I was still attending the original hospital as it was closer to home so all the big stuff was being carried out in Newcastle and the monitoring was done at Bishop Auckland.
I informed the consultant at Bishop Auckland about the side effect of the Interferon but he just looked blankly at me, I now had the decision to make, could I bare the pain or would I have to insist on alternative medication. So I stopped taking the Interferon, much to the annoyance of the consultant at Bishop.
My theory is that I was not experiencing any physical problems with the CML so in my eyes I concentrate on the problem that hinders my day to day activities. At this point I was an instructor of military skills with a youth organisation which could be quite physical.
Later that year I was admitted to the RVI for stem cell harvesting which included sessions of chemotherapy.
In 1997 a donor had been found, a middle aged woman in Texas and the transplant was scheduled for November of that year. The hospital in Newcastle was of Victorian origin and some of it was due for refurbishment, including the cancer ward. So it was arranged that the transplant would take place 130 miles away in Nottingham, at this point I had a young wife and a 1 year old daughter.
I spent 5 weeks, 1 of which in a lead lined isolation room. I went into hospital weighing around 224lbs (100kg) and 5 weeks later was discharged weighing 154lbs (69kg).
Whilst in isolation friends and family were masked and gowned and I was on a self administered morphine drip. One of my friends actually thought I was close to death where in reality I was loaded up on morphine. The most painful side effect was the severe blistering in the mouth, one morning when I went to the bathroom to brush my teeth I had to force my inside cheeks away from my teeth to get my toothbrush in, this caused blood to poor from my mouth.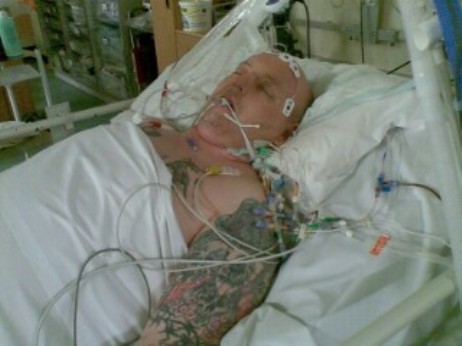 The transplant had caused my body to more or less reset itself, my muscles had deteriorated I had no energy and no appetite. After the oral blistering my taste buds had been damaged so everything I did eat tasted of cardboard but I did develop a craving for ice lollies and ice cream.
Post-transplant went relatively well; I experienced a very small amount of GVHD.
By April 98 I was back instructing again and making regular visits hill walking, the transplant was working very well and I was having little difficulty. The following year, in the June, I attended a 28 day residential security course and qualified as a Close Protection Officer (Bodyguard) but found it hard to find work as people were a little reluctant to hire someone who had had leukaemia. The following year I attended another successful instructor's course enhancing my skills teaching weapons and other military subjects. However, Leukemic cells started to reappear and I was sent back to Nottingham to have a top up of my donor's bone marrow, which was a simple intravenous needle slowly administered.
Problem now was that it had reset the remission clock back to zero which meant I couldn't learn of my donor's details for another 5 years.
2001 my wife had finally had enough and we broke up, I followed this with a bodyguard contract in Monte Carlo and Paris and continued the momentum with a contract in London working for an international media group. During this job the Spinal Stenosis became more severe and made walking pretty painful, I also embarked in a new relationship.
Towards the end of 2003 I had been spending time in a wheelchair due to the difficult in walking but had a date for spinal fusion. I had 2 discs removed from my spine and replaced with titanium cages, plates and screws. Surgery was successful, however, during the next few weeks I began to lose spinal fluid through the wound so I returned to hospital.
This is where they first told me that during the procedure they had accidently pierced the spinal column as one of the discs had stuck to it. I received another procedure called a blood patch where blood was taken from my arm and then injected into my spinal column; this would then locate the hole and congeal to create a 'patch' over the hole.
2004 was looking pretty good I was in remission and a 16 year old problem had been fixed. I attended a leadership instructors course and spent a couple of weeks on a military camp in Germany, on my return things didn't feel right. I had a hunch something was up so I made an appointment to see a doctor and asked him to do a FBC. My hunch was right, my Leukaemia had returned with a vengeance. I was put on 400mg Imatinib and initially was working well and brought my counts back to an acceptable level.
2005 I completed a drill Instructors course and was also lecturing at the local college.
2006 my second wife left me and I was back on my own again, I will just say both my ex-wives were the ones that took all the information from the consultants so I had no idea what my counts were on what PCRs, bcr-abl or any other abbreviation was.
I began working up and down the country doing security contracts at large venues with long hours and lots of travelling. During late 2006 to the beginning of 2008 I was hit and miss with my meds and constantly getting wrong off the consultant.
Early 2008 I started a new relationship and concentrated everything on it to ensure it lasted, it lasted 10 months, unfortunately during this time I took no meds at all.
Late 2008 I went for a routine appointment at the doctors' surgery with reference cramp, he took a blood test and later that day I received a call from him and he came to my home. He asked me when was the last time I taken my meds and when I told him he was shocked and told me what I was doing equated to suicide. My blood levels were all over the place again and I was referred back to my consultant. Again I continued on Imatinib and eventually my bloods came back down, I still had small episodes of forgetfulness but on the whole my bloods weren't too bad.
Summer 2010 I went out to Dubai for a meeting and while I was there I spent a few days on an Open Water Diving course. I was back in the country a couple of months and was then called out to Qatar for another meeting; it was a quick turnaround with couple of days in country and lots of hours sleeping on airport floors.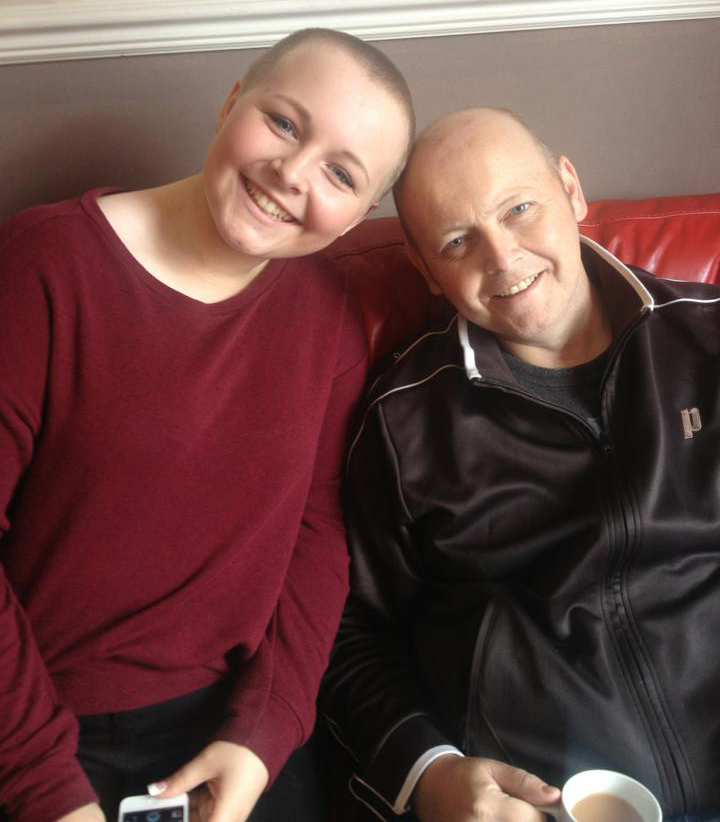 My daughter and I after she shaved her head for Charlie Bear charity at the Northern Centre for Cancer Care.
It was December and the snow was creating havoc on the UK runways. I was home just short of 2 weeks when I came down with, what seemed, as my routine seasonal flu. This one, however, was knocking the stuffing out of me. A friend of mine claimed I had 'man-flu' so as not to make a fuss tried to ignore it. One day I was visiting my parents and could hardly hold myself up so my father called for a doctor, when she arrived she called for an ambulance straight away. From this point forward everything became sketchy so I'll go to the end of the incident and explain what had happened.
I was placed into an induced coma and put on maximum ventilation, during a visit from my parents on Christmas Eve the doctor told them they had done everything they could and there wasn't much hope for me still being alive come Boxing Day, it was all down to my fighting spirit to keep me going.
Late January I came round from the coma to find I'd had pneumonia and H1N1 (swine flu), I spent the next couple of months in hospital having several different drains into my lungs.
Early March I was finally released from hospital. In addition to the pneumonia and swine flu I'd had a pneumothorax and had been left with nearly 50% lung reduction.
During 2011 & 2012 I continued on Imatinib but was experiencing more, severe cramp which was damaging my muscles. However, my consultant kept drawing a blank and thought it was nothing I also came out in a strange rash which was neither itchy nor agitated, but covered a lot of my body. Again this was something that my doctor couldn't explain.
2013 He did suggest changing to another TKI and I was put onto Nilotinib. I was away working and some strange things started to happen, my feet swelled up and I came down with severe flu type symptoms so I became very cautious. On my return home I went to see my consultant to get blood tests, I was immediately admitted, something was wrong . . . again. I spent some days in Darlington hospital but had to attend an appointment at the Freemans in Newcastle who had me immediately transferred. I spent the next 3 weeks in Newcastle having several sessions of chemotherapy and it turns out I had developed a rare T315i mutation that was resistant to most, if not nearly all TKIs.
Once my temp and blood levels were satisfactory I was sent home and an arrangement was made for me to have Ponatinib as this was the meds for the T315i mutation.
Summer 2013 I was away working and out driving one day, it was very hot and I'd had an early start. I was driving along the A66, which is a notoriously dangerous road when I began to feel very sleepy. Next thing I was head on with the oncoming traffic and after annihilating my Toyota Hilux, a caravan and another 4×4 my vehicle came to a standstill and I simply opened the door and stepped out. I was taken to hospital as I had damaged my knee but returned to work the next day where one of my colleagues, very jokingly asked "How come you don't die"?
To this day I'm still on Ponatinib and we are still trailing the dosage, where I get breaks when it's been over effective or just a reduction in dosage.
Things seem to be going well however my life has slowed down and I think it's time for a rest