Who are we?
We are Great Aycliffe Cancer Support Group.
We are a friendly social group, we welcome anyone who has been affected by cancer.
How often we meet?
We hold regular monthly meetings on the first Thursday of every month, with exception of August and January from 6.00pm to 7.30pm at the Youth Centre in Newton Aycliffe.
A yearly programme with dates and guest speakers.
What we do?
We work with other organisations such as MacMillan Cancer Support.
We represent patients and carers views.
•   Regular guest speakers
•   Welfare right advisers
•   Dieticians
•   Therapists
•   Medical Professionals
and other representatives from various local welfare and social support groups.
What can we offer you?
Information on issues affecting cancer patients.
The opportunity to influence cancer services in the future.
Regular social activities, with others affected by cancer.
Day trips, social events, meals out.
Confidential and emotional support in a safe and friendly environment.
Patient Transport
Holiday Caravan
---
Allison White was nominated by Mp Phil Wilson earlier in 2016.
The awards are designed to recognise the hard work and innovative thinking by our local charities and individual fundraisers and we are pleased to announce that Allison won North East Champion Volunteer of The Year. Allison is pictured with MP Phil Wilson accepting the award at The Marriott Hotel in Gosforth in Newcastle.
______________________________________________________________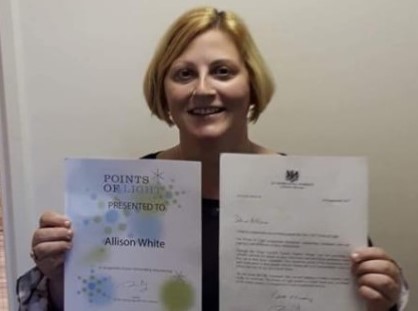 Prime Minister Teresa May awarded Allison White with a personal letter along with a "Points of Light Award" as recognition for being an outstanding volunteer who helps make a difference in her local community.